A FAMILY TRIP TO OSTUNI
If you plan a trip to Puglia, don't forget to spend a day in Ostuni: all your family components will appreciate it!
My summer residence is here, so I know this place very well, and I have lots of tips for you: enjoy!
(VERSIONE IN ITALIANO CLICCANDO QUI)
WHY VISITING OSTUNI
Maybe for its position perched on a hill, for its magical glow in August light, for the large pedestrian area or for the beautiful beaches lying at its feet… all this features make Ostuni attractive for everyone, especially for families.
One day could be enough to visit this little city, but my advice is to stay here overnight. During summer, this choice will allow you to enjoy the transparent sea, beside of the beauty of surrounding villages. Moreover, you can reach southern Salento from here, thus avoiding staying long in the crowd that characterize this region in high season (july-august). On the other hand, during autumn and winter, you will appreciate the liveliness of this town and the possibility to visit the whole Itria Valley area, that is wonderful in this period.
Ostuni is called the "White City" because of the white lime that covers houses' exterior in the historical centre. This material was traditionally used for its antiseptic action at the time of the great epidemics. Today, it retains its usefulness in refracting the rays of the hot southern sun. Beautiful electric lighting makes the splendour of this white hill  visible faraway in the evening. So be certain that a trip to Ostuni will enchant all your family.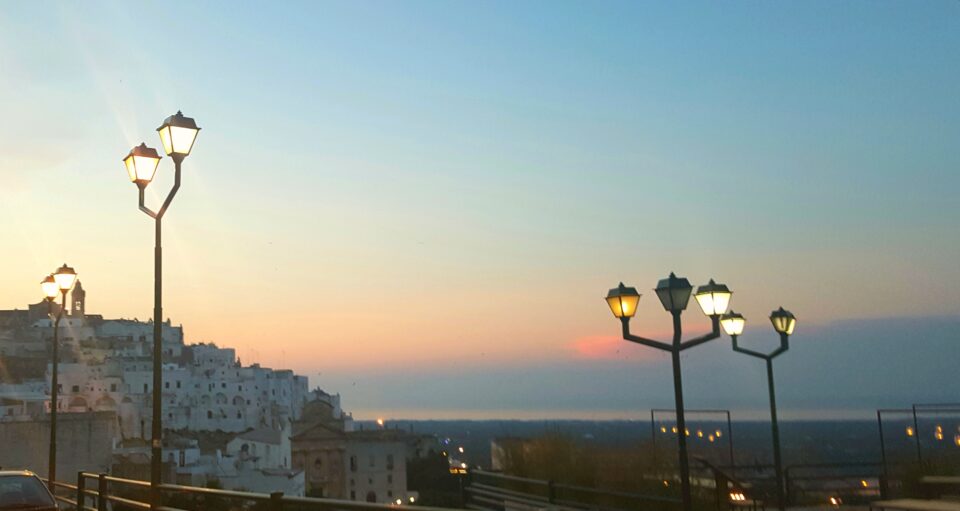 WHAT TO SEE IN OSTUNI
Piazza della Libertà is the central square, where your family trip in Ostuni will ideally begin. It hosts the wonderful Saint Oronzo's obelisk and is the starting point of the beautiful historical street toward the Cathedral. Along "Via della Cattedrale" you will find lots of nice handcraft shops and restaurants and amazing alleys on the sides, but be sure to walk along till the top.
Ostuni's Cathedral is a simple but impressive white stone church in Gothic-Romanesque style. Admiring its rose-window, pay attention to "Salvador Mundi" (World Rescuer) Christ statue. Close to the Cathedral, there is the famous Scoppa Arch and Diocesano Museum. 
The Surrounding Ancient Walls

of Ostuni have been built directly on the rock. You can walk along them to enjoy fresh wind on hot summer and get far from tourist crowd. Moreover, this street is full of running folklorist "Ape calesse" (a typical three-wheeled vehicle). Don't forget to have a ride on them, if you want to experience the real atmosphere of Southern Italy!
A tip about Ostuni
Ostuni has its golden moment at sunset, when the sun disappears behind the hill, painting the city pink.
Moving before 7 p.m., you can park and find a seat at restaurants more easily. You will then have time, after dinner, to enjoy a cocktail in trendy bars along the alleys. In case of panic, just remember that you can also park outside the Walls, where new restaurants are springing up.
WHERE TO EAT IN OSTUNI DURING YOUR FAMILY TRIP
Breakfast and lunch
For breakfast, you must absolutely try the delicatessen of Ciccio Pastigel: you will certainly appreciate its "pasticciotti" (shortcrust pastry filled with custard) and ice-creams.
Alternatively, during your family trip to Ostuni, you can enjoy an excellent caffè  espresso at New Life Fanelli, which also offers tasty light lunches.
For midday, a good "puccia" (special stuffed bread, typical of Salento) at Sapori d'Eccellenza is highly recommended!
Aperitif and Dinner
For a family dinner, go to Il posto Affianco, which ensures a glimpse of great charm in a small square of the historic centre, surrounded by jasmine plants. The management is familiar and kids will be happy to eat an excellent pizza, while adults can choose traditional Apulian food, including fresh fish.
At the top of the great climb that crosses Ostuni's ancient centre, there is also an enchanting Michelin-starred restaurant, Cielo (inside Relais La Sommità hotel). You can taste here gourmet flavours in a Spanish citrus garden..: unforgettable! The reserved parking is downstream, but this restaurant offers a shuttle service on a cheerful "Ape calesse" vehicle. Children aged 6 and over are welcome; the restaurant closes every year between early November and early April.
It is certainly worth eating also in a "masseria" farm near Ostuni: they always have a lot of green space suitable for kids.
If you would like to delight in aperitif time, tasting typical Apulian vegetable-garden delicatessen under a scenic ficus tree, go to Masseria Narducci.
For a light dinner, I suggest Agrobistrot Pantaleo, characterized by a large park equipped for children. Up for a hearty meal? At Capatosta Restaurant you will find all the tastes of Apulian tradition.
During low season, those places may have periods of closure: check every time and possibly book in advance!
After-dinner
Finally, if your kids are night-birds, there are a couple of places to keep in mind.
Riccardo Caffè is an historic top club of Ostuni to spend late evening: for sure the place to be in this town. The interior is carved into the rock and even incorporates a tree. The exterior part of the bar is furnished with soft armchairs, located along the steps of a typical alley in the historic centre. Soft lights, good cocktails and lounge music make it a perfect location to feel part of Ostunese dolcevita!
White Ostuni beach club is a charming place directly on the beach of Monticelli, where guests sit on deck chairs, under palm umbrellas. Here you can drink fresh fruit cocktails and listen to live music… while the children can play with sand!
WHERE TO LODGE WITH FAMILY IN OSTUNI
If you want to enjoy luxury, there is the aforementioned La Sommità Relais Chateaux. Please, pay attention to closure's months and to admitted children age (above 6 years old).
Alternatively, remaining in Ostuni ancient centre, I suggest Hotel La Terra, that is located in an historic building, and it is open all year long. Consider also Dimora di pregio Casa Vacanza, a cosy house with beautiful terrace and cheerful hosts.
If you prefer to sleep in a typical farm, I recommend Masseria Salinola, a white structure in a green countryside. The farm organizes many activities, like bike tours and olive harvesting.
For a long term rental, close to beaches and with lots of comforts and services, you can stay at Rosamarina Residence. Here you can find transparent and sloping sandy sea, showers and restaurants on the beach, electric shuttles to move internally, soft entertainment (including workshops and shows for children), playground, tennis courts and much more.
ABOUT OSTUNI BEACHES
During sunny days, you will certainly enjoy the magnificent beaches of Ostuni coast with your family. I would like to specify that, if the sea has recently been very rough, water will be less clear. Moreover, if you go there during july-august, it will be practically impossible to avoid lots of tourists.
Anyway, all the Ostuni beaches are very beautiful, and every year receive the Blue Flag and Cinque Vele awards from Italian institutions Legambiente and TouringClub. In Ostuni, indeed, the sand is pretty fine and golden and slides gently into a transparent clean lightblue-green water.
Recommended beaches
In addition to the already mentioned Rosamarina's beach, you can visit the sandy coasts of Lido Morelli and Lido Boscoverde. They also are immersed in the Centuries-old Park of the Coastal Dunes, scented by Mediterranean bush.
In Località Pilone there are also beautiful free beaches and lidos, with a pleasant view on the ancient coastal tower of San Lenardo.
The beaches of Costa Merlata are very spectacular: here sandy bays and jagged rocks follow one another.
Last but not least, there is Torre Guaceto, a protected WWF oasis. Here beaches are more difficult to be reached, but the beauty of nature will leave you breathless and the whitest and finest sand ensures a Maldivian atmosphere.
ADVISES FOR CHILDREN
The things that kids usually best like in Ostuni are:
running in the central square or in the countryside just outside the town,
buying souvenirs,
eating chocolate pasticciotti,
playing on the shoreline,
watching the Christmas lights!
In summer, there are a lot of festivals, like Sant'Oronzo feast and Ancient crafts and Street artists ones.
There are many beautiful cycle paths around Ostuni, a nice way for your family to explore the countryside and the coast.
There is also an Adventure Park with the funny name of Donkey Mischievous (Ciuchino Birichino)!
And for special needs, remember that in the new part of Ostuni there is also a hypermarket and a large toy shop.
Please follow and like us: