FAMILY HOLIDAYS IN BARI
WHY VISITING BARI WITH FAMILY
The city of Bari is where I was born and I have spent the most part of my life, so trust me if I say that it is absolutely worth to host your family holidays. After visiting it, you can then move to Salento or Valle d'Itria, to discover the rest of Puglia.
The old town is the best part of the city: it is so vivacious in every hour, all year around. There you will found craft and souvenir shops, greengrocers, ladies preparing typical pasta "orecchiette", children running around, clothes hanging and elderly people sitting outside their homes. All this life teems among paved mazes, stone houses and millenary buildings, like the must-see Basilica di San Nicola, alias Santa Claus.
Your family will enjoy the long seaside promenade and the colourful pier of "'nterr' la lanz'", too. Moreover, the beautiful town of Polignano a Mare is not far from Bari: it is reachable by train or car.
WHAT TO SEE IN BARI
Your holidays in Bari with family should start by visiting the old town, alias "Bari Vecchia". Arriving from the enchanting street Corso Vittorio Emanule, you will enter through the double squares Piazza Ferrarese and Piazza Mercantile. Here you find the "infamous column", where insolvent debtors used to be punished. Children enjoy riding its stone lion. Besides, there are several restaurants and café in this area.
Then, you can walk along the sprightly little paved alleys, where you encounter vendors of fruit, souvenirs, typical houseware and fresh pasta. In particular, in the street Arco Basso you can meet numerous ladies making with their hands  typical pasta "orecchiette", then put to dry outside, and sold.
San Nicola's Basilica
Through those little streets, you will reach the Church Basilica di San Nicola: don't forget to explain to your kids that the generosity of this Saint, his white beard and red dress (as bishop) inspired Santa Claus Christmas figure.
Here are some legends about this San Nicola:
He is represented with three little balls on his left hand, since he saved three poor girls, giving them golden spheres as dowry.

The Church was erected where the buoys that were carrying San Nicola's bones – arrived by boat from Mira – stopped

 

and refused to go on

.

When the Church could not be completed because of the lack of one column, this appeared on the seashore, sent by the Saint.

This column is now protected by a grid, as it was the object of excessive devotion, above all by not-married women, looking for a husband.
The Romanesque Basilica is amazingly huge and charming and host lots of historical and artistic treasures, such as the stone carved chair of Abate Elia.
The Cathedral
The history of San Sabino Cathedral departs from ancient Roman and arrives until baroque age. The "Museo del Succorpo" is an interesting museum to visit for this reason. It hosts also an extraordinary mosaic with dancing fishes and octopuses, that your kids will really like.
Cathedral's bell tower dominates Bari's skyline, so that it is a symbol of the city. 
Santa Scolastica and the Castle
Visiting Bari Vecchia, you can also find Santa Scolastica complex, that includes:
an Archaeological area and Museum,

a Monastery and a XII century Church.
Close to it, you will meet the amazing ruins of the Byzantine Church of Santa Maria del Buon Consiglio. 
On the edge of the historic centre, towards the new area of ​​the city, there is a Fortress ("Castello Svevo") which has followed – with its stratifications – all the stages in the history of the city. Castles are every time enchanting for children, so this stop is a good idea during your family holidays in Bari.
WHAT TO DO IN BARI DURING YOUR FAMILY HOLIDAYS
SEAFRONT
Strolling along the promenade, you come across four interesting portions of the city:
Walking on the ancient wall that surrounds part of Bari Vecchia ("la Muraglia"), you can taste another piece of history and enjoy the panoramic view.
Going past Margherita Theatre, there is a picturesque pier with colourful fishermen's boats, to be visited with family: in dialect it is called "n'terr' alla lanz", that means "bring the ship ashore".
Then you encounter the Metropolitan Picture Gallery (Pinacoteca) on the top floor of a splendid seafront building: the view from there is highly scenic and it hosts a collection of Apulian art.
In the end, Bari has a nice beach, called "Pane e pomodoro": the sea is not very clear, since it is inside the city, but it endowed with deck chairs, swings for children, fitness equipment and refreshment point.
IN THE MODERN PART OF THE CITY
EATING AND SLEEPING IN BARI
TYPICAL FOOD OF BARI
You should spend maybe one month to be able to taste all the exquisite delicacies that are traditionally cooked in Bari. On the other hand, fortunately almost all of them can also be found around the rest of Puglia, if you plan to move from the Capital city.
I will try to indicate the most important dishes of Bari and, above all, the ones that I think your family can mostly enjoy during your Apulian holidays:
"tiella barese", an oven cooked pot with rice, potatoes and mussels (also said "riso, patate e cozze");
"focaccia" (kind of oily bread with tomatoes) and "panzerotti" (fried dough, filled with tomato and mozzarella), the street foods par excellence in Bari;
"orecchiette" (pasta that looks like little ears) with turnip tops or – more appreciated by children – with "braciola" (meat-roll) tomato sauce or with cherry tomatoes and grated "marzotica" ricotta;
"fave e cicorie", broad bean purée with sautéed chicory;
"tarallini" and "friselle", bakery products usually eaten with dairy products, Apulian salami and dried tomatoes;
"cozze ripiene", stuffed mussels, cooked in sauce.
Obviously, everything will be seasoned with awarded "Terre di Bari" extra virgin olive oil.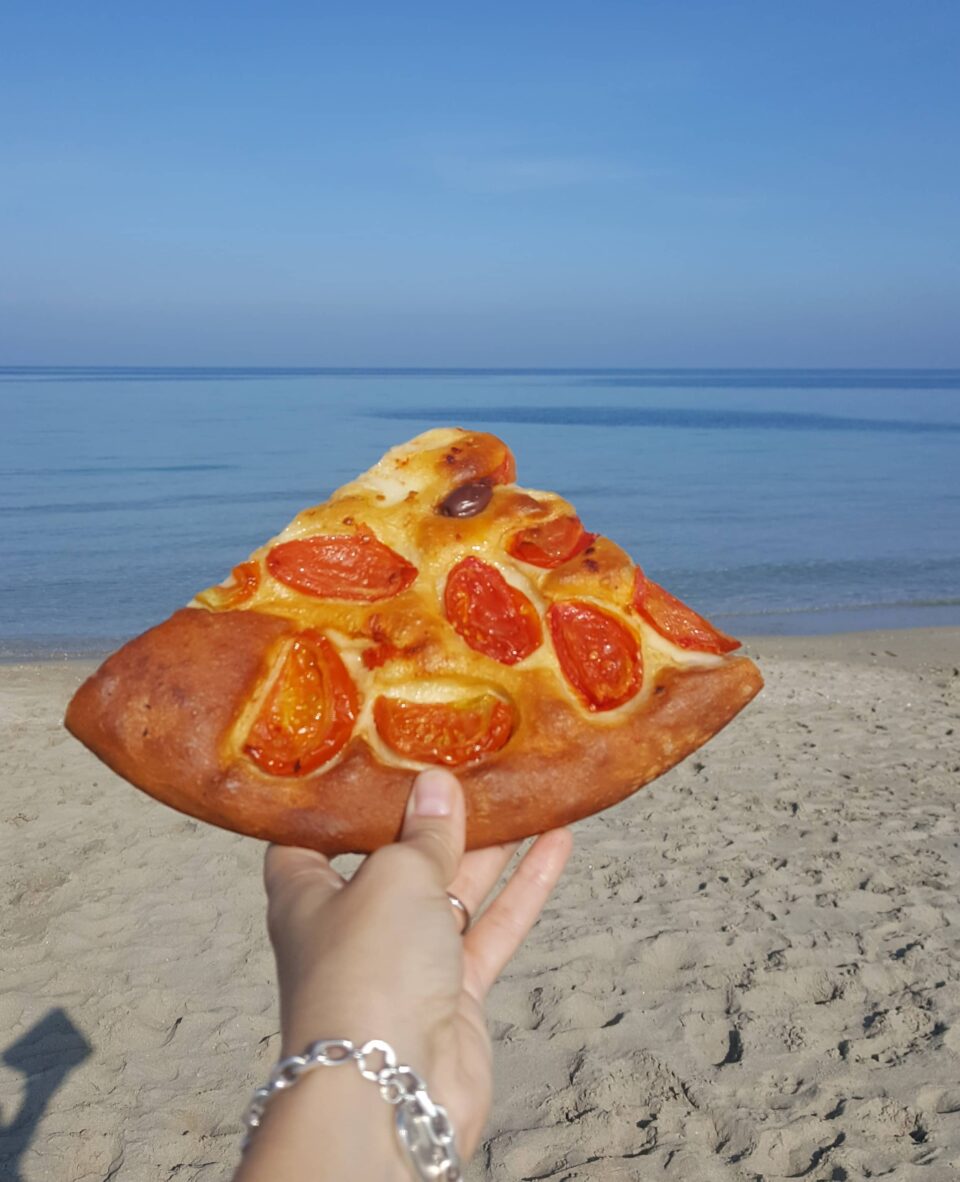 WHERE TO EAT IN BARI
Here you find some advises about best places to enjoy Apulian meals.
BREAKFAST/TEA-TIME
LUNCH
DINNER
WHERE TO SLEEP WITH YOUR FAMILY
Among several B&B recently opened, I would suggest La Maison del borgo antico, inside Bari Vecchia, and Palazzo Calò with a beautiful terrace.
If you rather prefer a traditional hotel, you can choose between IH Hotel Oriente or l'Hotel Boston: both are well organized and positioned.
FINAL LITTLE ADVISES FOR CHILDREN
It would be great if you could bring your family to Bari for holidays around the 06th of december or the 08th of may: those are the dates for huge and characteristic celebrations for San Nicola.
You can move inside "Bari vecchia" and city centre using pleasant rickshaws: kids usually really like it. Moreover, to take a breath in greenery, go to Park "02 giugno", where to find playground and little lake with gooses.
HERE IS A MAP WITH THE MOST INTERESTING POINTS.
Please follow and like us: