ITINERARY AROUND BARI
The Apulian capital is a city through which – almost certainly – you will pass, because your plane/train/boat lands here, or because you will meet it arriving by car from the North. My advice is not to go beyond Bari without visiting it, and indeed to stay there for a few days to appreciate it in and around with this little itinerary by car.
The city has a charming old centre, interwoven with relevant buildings, ancient history and heartfelt traditions. Its elegant promenade will captivate you with its liveliness, pushing you to walk it all, as long as you have strength in your legs.
If you don't arrive to the capital by car, it will be advisable to rent one, in order to move easily and freely throughout Puglia.
This mini-tour, here suggested, lasts 3 or 4 days. At the end of the itinerary, departing from Bari, you could continue by car towards the South: Valle d'Itria or Salento.
DAY 1 – BARI
IN THE MORNING
Have breakfast at "Martinucci", at Bari Vecchia (the old town) entrance, in the lively Piazza (square) Mercantile. So start tasting Puglia with a sweet "pasticciotto" or "sospiro", accompanied by a "caffè leccese" (with ice and almond syrup) – in summer – or an "espressino" (small coffee with milk foam) – in winter.
In the square, stop to observe the "infamous column", an ancient pillory for bad payers: it was a terrible bugbear for a city with a mercantile vocation, like Bari. Continue through the characteristic narrow streets, among fruit, souvenir, houseware and "orecchiette" pasta sellers, in direction of the Cathedral. After admiring its Romanesque façade and Baroque interior, proceed towards the Basilica of San Nicola, where religion and myth meet.
If the weather is good, you can stop for a slice of warm "focaccia" (crunchy oily bread with tomatoes) from "Fiore" Bakery and climb the steps that lead to the ancient Wall, to taste this Bari delicacy, while admiring the sea. If you prefer a more comfortable option – indoors – head towards "Ciclatera Sotto il Mare": you will find a light lunch with the traditional flavours of Puglia.
AFTER LUNCH
From the wall called "Muraglia", continue walking along the promenade, passing "Margherita" theatre, which often hosts interesting exhibitions.
You will then arrive at the famous pier of "'nterr' la lanz", with an enchanting view of colourful fishing boats, surrounded by seagulls. From here you can continue along the promenade, up to the Pinacoteca or further up to the beach of "Pane e Pomodoro" (half an hour walk away). Or you could turn right, admire "Petruzzelli" Theater and launch yourself into the shopping streets in the new part of the city. If you feel peckish, try a "panzerotto" in one of the numerous bakeries and rotisseries that populate Bari.
To stay in the area for dinner, go to "Battigia" restaurant and you will satisfy your hunger for the sea. You can then stay overnight at "La Maison del Borgo Antico", a B&B full of charm.
DAY 2 – CASTEL DEL MONTE & TRANI
If you want to learn more about the beauty and history of the city, I suggest you read the article dedicated to Bari, to decide how to continue your visits, spending one more day in it.
If, on the other hand, you want to start exploring the surroundings, you can leave in a northerly direction. In fact, I suggest you to dedicate a morning to visiting the famous "Castel del Monte" (60 km away), an octagonal marvellous fortress created by the genius of Frederick II. It is preferable to take a guided tour, to appreciate all the details, history and mysteries.
Then, head by car to Trani (30 km from Castel del Monte), where you can have lunch at "Pescandalo" seafood restaurant. From here, start your walk along the quaint little port, and afterwards deviate inland, to the so-called "Templar Church" (alias "Ognissanti Church").
Later visit the Jewish quarter and head towards the Cathedral, ready to be breathless by its beauty and scenic location, surrounded by the sea. You could then dine at "Bistrot 27", to taste many typical delicacies, and finally return to Bari to stay overnight.

DAY 3 – POLIGNANO A MARE & CONVERSANO
On the third day, I suggest you visit the spectacular town of Polignano a Mare (35 km away from Bari), perched on overhanging cliffs.
The walk in its historic centre must include this sightseeing: Clock Square, Mother Church and Santo Stefano Belvedere, with a view of the phantasmagoric Lama Monachile.
At lunch, you must definitely try the authentic "Pescaria" sandwich with octopus, as well as the delicious ice cream and special coffee of "Supermago del gelo".
CHOICES FOR THE AFTERNOON
At this point, there are several alternatives you could choose for your itinerary around Bari:
If the charm of the village has bewitched you, you could also spend the afternoon in Polignano, perhaps for a dip from the rocks or a boat ride to the caves. In that case, I suggest you move at sunset to the charming fishing hamlet of San Vito and dine at the welcoming "Giselda" restaurant (7 km from Polignano centre): remember to try the stuffed mussels! Then, you can return to Bari.
Whether, on the other hand, you want to discover another fascinating Apulian village, head towards the nearby town of Conversano (10 km from Polignano). You can admire its long history Castle, the graceful Romanesque Cathedral, the megalithic Walls and the enigmatic Monastery of San Benedetto. For dinner, choose the excellence of "Vita Pugliese" restaurant. Afterwards, you can go back to Bari.
Otherwise, if your stay in Puglia extends with an itinerary in Itria Valley or Salento, you could move directly from Polignano to the South and stay overnight in Ostuni (50 km from Polignano). In this "White City" I suggest you dine in the family restaurant "Il Posto Affianco" and sleep at the comfortable "Hotel la Terra".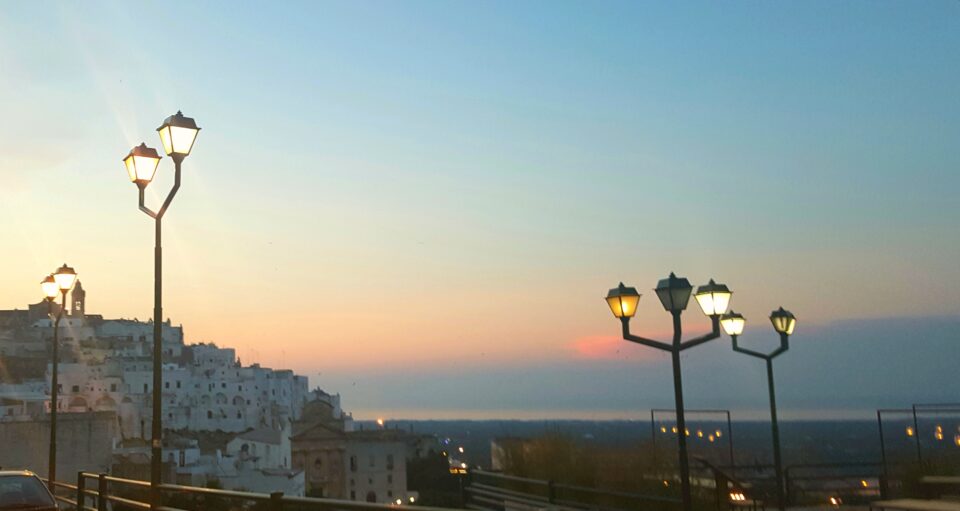 ITINERARY AROUND BARI: DAY

4 – GIOVINAZZO & TORRE A MARE
Whether at the end of the trip to Polignano/Conversano you have returned to Bari, use this fourth day to take a tour of Giovinazzo (24 km from the Capital of Puglia).
It is a stupendous village – still little known to tourism – which will strike you with its beauty and authenticity. Here you can also enjoy a tasty typical lunch at "Osteria Scvnazz".
At apéritif time, I advise you instead to visit the fraction of Bari called Torre a Mare (5 km away). Here the people of Bari come for a walk to escape the chaos of the city, admiring the sun setting behind the fishermen boats. Take a seat at "Frizz Café" and order a drink with "aperitivo rinforzato" (reinforced apéritif): "panzerottini" and "bruschetta" won't be missing!
To have further suggestions and to ask for advices on how to structure and book your itinerary around Bari, you can write me in the comments or contact me at: pugliamondo@gmail.com
The article includes links to products with trusted partners: it involves a small percentage of profit for me, with no surcharge for the buyers.
Please follow and like us: