AUTUMN AND WINTER IN ITRIA VALLEY
Do you know how beautiful Itria Valley is during autumn and winter? Visit it over a long weekend, with your family.
ITALIAN VERSION – PER LEGGERE L'ARTICOLO IN ITALIANO, CLICCA QUI
WHY VISITING ITRIA VALLEY IN AUTUMN AND WINTER
Itria Valley is magnificent in every season: it is full of characteristic small towns, close to the sea, enthusiastic in Christmas decorations. You can enjoy beautiful countryside and unforgettable cuisine all year long! So why don't visit Itria Valley in low season, between autumn and winter, when prices drop and tourist crowd disperses?
You can appreciate the beauty of this land from the panoramic terraces present in many villages in the area. You will see centuries-old olive trees and red ground, white stone buildings, "trulli" and blue sea on the horizon. Also children will be so happy!
Ready for a wonderful journey?
HOW TO ORGANIZE YOUR TRIP
Don't expect to spent time looking the foliage and drinking hot herbal teas. Here autumn often resembles spring: you can even encounter flowering meadows.
During winter, although temperatures remain above 10° C, it can be still cold. So, bring wool sweaters, but cheer up, as those might be enough for you to be outdoors in sunny days. Obviously, you will also need a jacket for windy evenings and when winter approaches. Don't forget your sunscreen to have a nice picnic on the beach on a good weather noon.
In this part of ​​Puglia country cuisine prevails, so carnivores can taste all kinds of delicacies and vegetarians can enjoy  garden vegetables and legumes. But even fish lovers will not struggle to satisfy their palate with the freshest products.
I recommend making your base in Ostuni, because – alongside the charm of its historic center – it has a modern area that remains lively and stocked all year round.
WHAT TO SEE IN OSTUNI
You must consider an entire day or two half days, to fully enjoy Ostuni. Upon arrival, you will be struck by its position that is perched on a hill, surrounded by the mighty Aragonese walls and white lime houses. This peculiarity makes the town shine under the morning sun, tinges it pink at sunset and makes it sparkle with evening lights.
The ideal starting point for a walk is the large Piazza della Libertà, with the obelisk of Saint Oronzo – patron saint of the city – and the Town Hall. From here a climb starts and winds through the old city, reaching the top up to the Cathedral with its magnificent huge rose window and the Diocesan Museum, (open until 08:00 p.m.). Going up or down, however, you must absolutely go into the side streets. Here – between arches, flowers, ladders and cafes – the historic center gives its best.
In autumn, some shops on Via della Cattedrale are closed, because they move to the headquarters in Via Pola, the newest part of ​​the city. However, I would like to point out that an interesting local pottery shop – Carella – remains open all year round. Besides, don't forget to stroll along the great Walls that surround the city.
OUTSIDE OSTUNI
Ostuni is a strategic point because from here you can make half or full day excursions to other towns of Itria Valley. Moreover, the roads leading to the neighboring villages are almost as beautiful as the destination. Try not to stop and photograph the big twisted olive trees, the enigmatic trulli, the dry stone walls, the ramifications of bare figs, the ancient farms!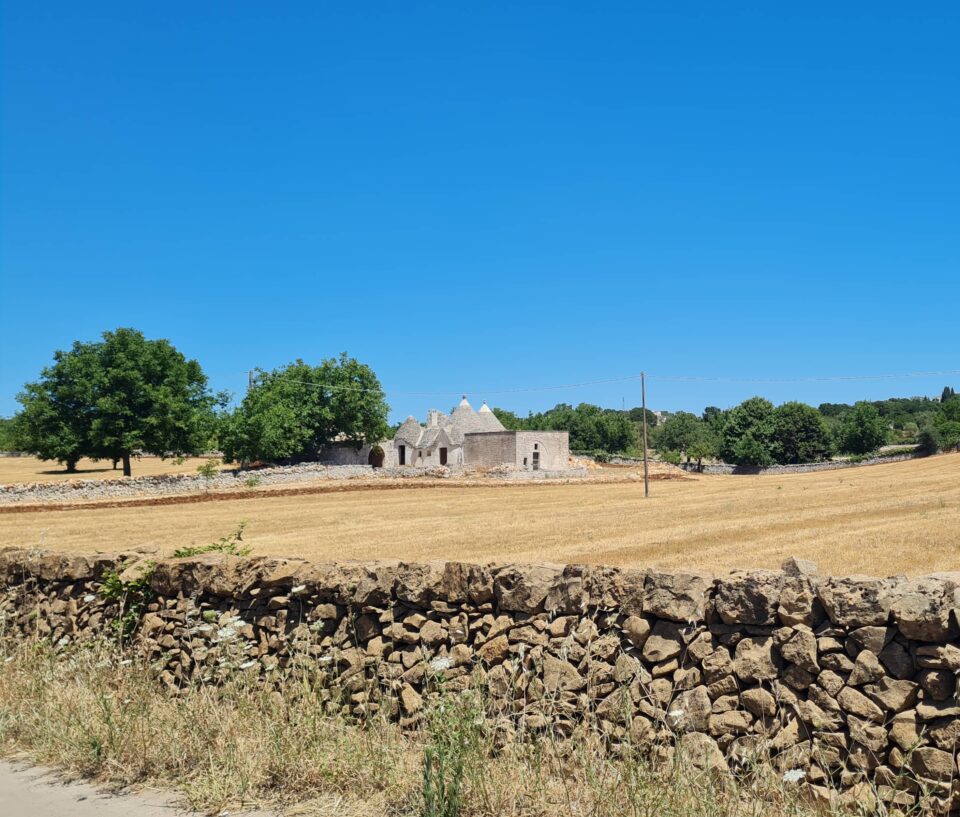 BEST PLACES TO VISIT IN ITRIA VALLEY
I will dedicate an article to each of these splendid places, but here I will focus on a summary of the possibilities that open up in Itria Valley, even in autumn and winter.
Indeed, each village in this region has something in common with the others but, at the same time, with its own peculiarities. I suggest spending at least half a day for each town and don't forget to have a meal there too, in order to taste all local specialties.
Locorotondo is absolutely worth seeing for its buildings with pointed roofs – despite the absolute improbability of snowfall – which give it a truly magical air. It is also famous for its Flower Festival and Christmas decorations, so that my little girl dubbed it "the land of fairies"!
The peculiarity of Cisternino is its spontaneous architecture – full of alleys and squares, arches and terraces – with typical quarters signs in dialect. You certainly cannot leave this town without tasting succulent barbecue meat creations of its butchers!
Alberobello is well-known all over the world for its constructions made with the trullo technique: gray and white stone cones with mysterious symbols. The resulting landscape remains magical, despite the abundance of souvenir sellers.
Martina Franca is a Baroque style city characterized by beautiful noble palaces, remarkable portals and a majestic main square. It is also famous for its fragrant and unmistakable cured meats.
Castellana Caves are an impressive karst complex, a magnificent underground world, with a thousand-year history. Among canyons, fossils, stalactites and stalagmites with imaginative shapes and iridescent colors, adults and children will have lots to be amazed!
Ceglie Messapica is an ancient village, with a fascinating historic center, and it is home of a famous biscuit.
Zoosafari of Fasano is a fun attraction, if you want to dedicate an entire day to delight your children, among exotic animals and a spectacular funfair.
Finally, don't forget to visit the beautiful town built overlooking the sea, Polignano a Mare, not so far from these villages. So you can organize your weekend in Itria Valley by choosing your most inspiring places to visit, enjoying the beauty of autumn and winter.
WHERE TO SLEEP IN VALLE D'ITRIA
In the historic center of Ostuni you will find La Terra Hotel. It is a former convent with large charming rooms, that have been renovated with nicety and simplicity.
If you wish to treat yourself to a little luxury, the Relais La Sommità will not disappoint you, with its breathtaking view and its Michelin starred restaurant (children aged 6 and up). But be careful because it usually closes around November 1st.
If you would like to enjoy countryside, Masseria Salinola is an excellent hotel / farmhouse surrounded by greenery, with a playground for children. It keeps open all year round.
As an alternative to the very comfortable and fascinating Ostuni, I recommend you to stay in my favorite village of Itria Valley: Locorotondo.
There you can choose between a refined stay in a trullo of the fourteenth century at Tenuta del Lauro or a very particular house with pointed roof at Sotto le cummerse.
Now you have no more excuses to postpone your travel to Itria Valley in autumn or winter with your family!
WHAT TO EAT IN ITRIA VALLEY
Don't go home without tasting these stuff first!
Orecchiette, taralli, focaccia, panzerotti and oil / olives are Apulian typical dishes, but in Itria Valley you will further taste these local culinary excellencies:
Bombette (meat rolls stuffed with cheese), zampine (seasoned veal sausages) and gnumiriddi (lamb entrails rolls), especially in Cisternino;
Fave e cicorie (road beans with chicory), legumes with Municipal Denomination of Locorotondo; 
Capocollo from Martina Franca, cured meat macerated in vincotto (cooked wine), according to an ancient tradition;
Ricotta forte

,

a soft cheese with sour-spicy taste;

Biscotto di Ceglie, an almond scented cookie fulfilled by cherry, grape or fig jams.
You will also find in Itria Valley the excellent Salento's pastry pasticciotti, filled with cream and black cherry. Ask in the bars for a Leccese, a coffee filled with Apulian almond syrup.
THINGS TO DO IN ITRIA VALLEY IN AUTUMN
In Puglia, autumn is the season of mushroom and chestnut festivals.
Itria Valley is also famous for grape and olive harvest feasts. I advise, in particular, the "Bacco delle gnoste" festival in Noci town. It is dedicated to small courtyards and local autumn flavors.
Another amazing activity to do is cycling along the many cycle paths in the area. Accompanied by a gentle sun that does not make you sweat and does not make you feel cold, you can discover ancient itineraries, such as Via Francigena, Via Traiana, Ciclovia dell'acqua (water cycle route). On your run you will meet porcupines, Roman paving stones, farms during olive harvest, caves that served as underground oil mills, olive groves, millenary dolmens and people on horseback. Indeed, there are numerous riding schools in the area.
Beware of porcupines!
I recommend taking a bike ride in the Regional Park of the Coastal Dunes. The semi-marshy areas characterizing this coastal stretch are the habitat of many species of shrub plants, which fade to yellow on the beach and be swallowed by the blue of the sea. There are many birds flying over this area and stopping in these stretches of water during the autumn migration: a true paradise for birdwatchers!
THINGS TO DO IN ITRIA VALLEY IN WINTER
All the Itria Valley villages seem a snapshot from a Nativity scene.
Their hilly position, the stone buildings in which white predominates, the abundance of surrounding greenery make them perfect for Christmas atmosphere. From mid-November decorations begin to revive in the historic centers, dominating the narrow alleys of the villages.
Among olive trees transformed into Christmas trees and sparkling lights on the white houses, you will encounter Christmas markets with typical products, food and artcrafts from Apulian tradition.
In order to finalize your trip, stay tuned on this blog.

You will find more detailed instructions about accomodations, restaurants, shops and attractions for each of the amazing Itria Valley villages. 
Please follow and like us: