POLIGNANO A MARE WITH FAMILY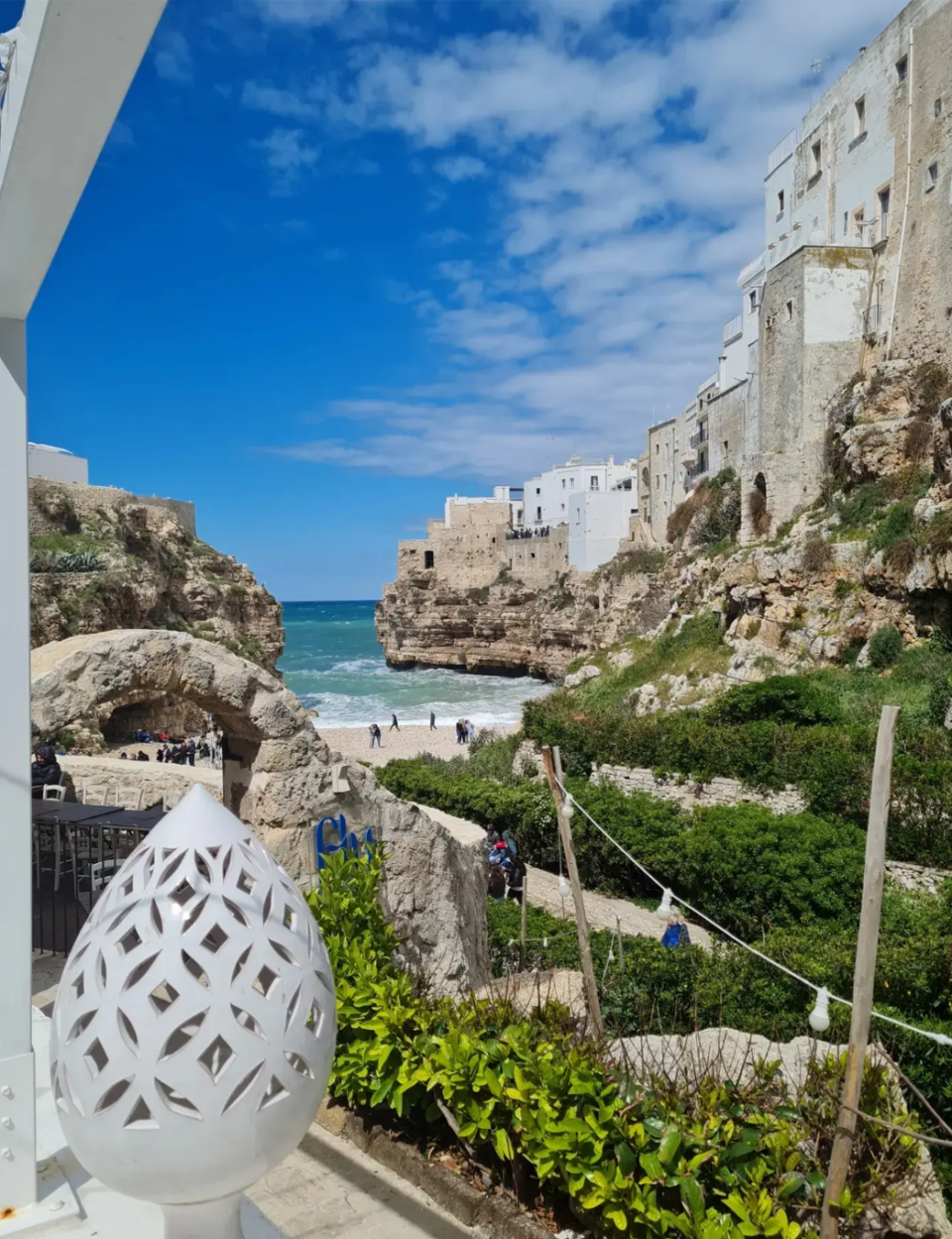 Polignano (as it is also known) is a village of unparalleled beauty. Built overlooking the sea, it is famous for its scenic views of the rocks and caves that plunge into the blue. Polignano a Mare will enchant your family for certain.
Walking through the maze of alleys, among stone houses and small loggias, is already a marvel. But there is more than this: when you come to one of the numerous belvedere in the historic centre, you will remain breathless in front of the spectacle that opens up to your eyes.
In Polignano the most curious children will wish to stop and read the beautiful poems written on several steps of the village, the most adventurous ones will ask to visit the caves by boat, the most exuberant will be impatient to reach a beach to swim.
This village is half an hour far from the Apulian Capital, Bari, and about 30 km from Itria Valley. 
WHAT TO SEE IN POLIGNANO A MARE WITH FAMILY
The entrance to the oldest portion of Polignano is from "Arco Marchesale", also called "Porta Grande". This is an ancient gate, formerly equipped with a drawbridge. While crossing it, stop to admire the small fresco inserted in the vault.
You can't absolutely miss one of Polignano panoramic terrace, to appreciate the position of its clinging houses. The best one is probably Santo Stefano view-point, that overlooks the famous little beach Lama Monachile.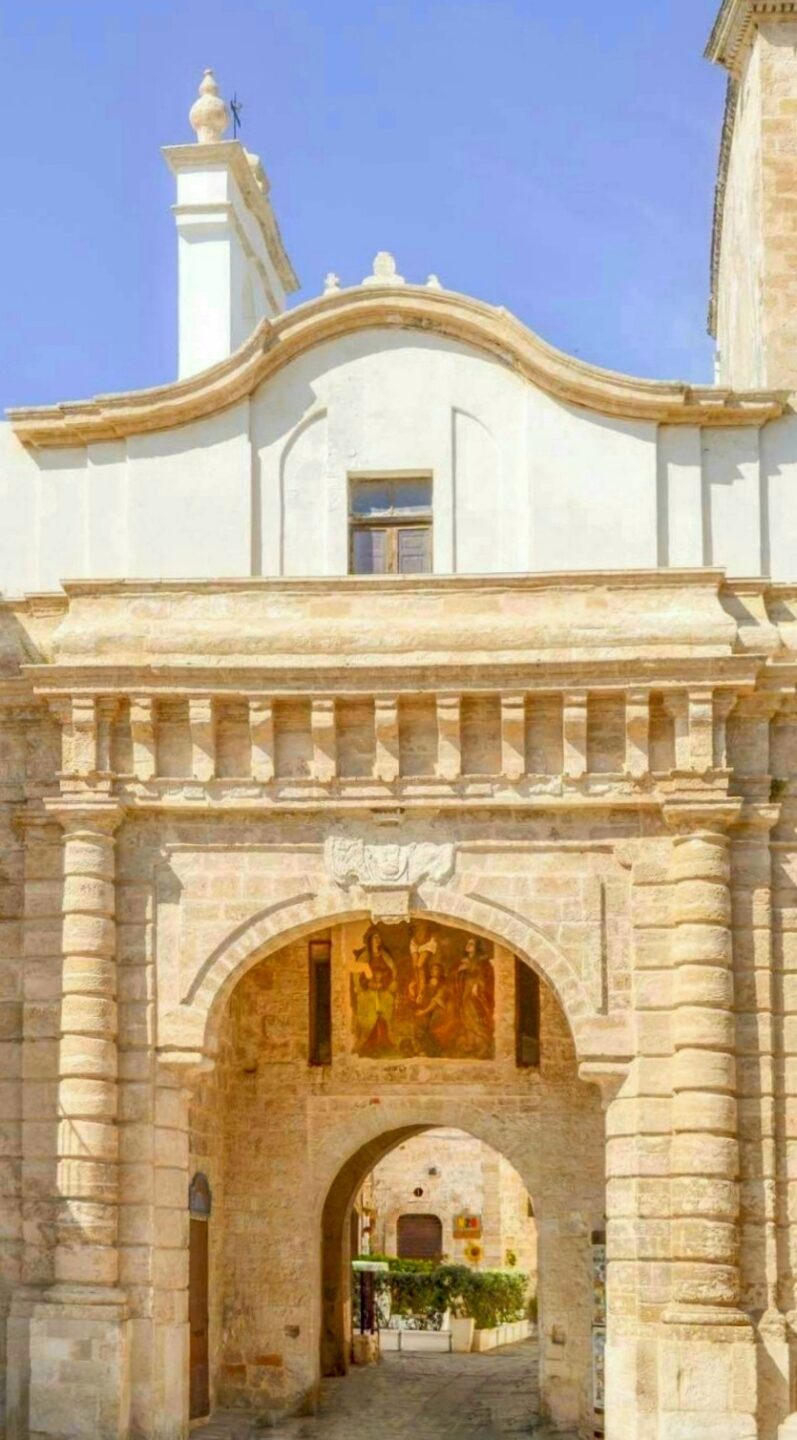 OTHER POINTS TO SEE IN POLIGNANO
"Palazzo dell'Orologio" (Clock Palace) is

surmounted by a statue of the patron Saint and a bell gable. The clock still works because it is winded by the lady who lives inside the building.

"Chiesa Matrice" (the main Church) has

a simple Romanesque-Gothic façade with a Baroque rich interior. It also hosts a stone nativity scene by the Renaissance artist Stefano da Putignano.

"Chiesa del Purgatorio" is another interesting Church of Polignano: the skulls on the door will attract your children's curiosity.
JUST OUTSIDE POLIGNANO
It is absolutely worth taking the car to visit – close to Polignano centre – San Vito hamlet: a wonder full of poetry.
An imposing Monastery stands in front of a delightful cove among the rocks. Numerous small colourful fishing boats are moored in this placid sea, and a broken Roman column marks the tip of a rock for millennia. A small walk overlooking along the coast sea  leads to a Saracen watchtower.
WHAT TO DO IN POLIGNANO A MARE 
Italian most famous song "Nel blu dipinto di blu", internationally well known for its refrain "Volare oh oh, cantare oh oh oh oh" have been written and interpreted by the Polignano citizen Domenico Modugno. You can see his wide-open-arms bronze statue on the promenade, on the top of a scenic staircase. To better sing this song, go to Via Roma, where you can encounter the lyrics on the lights above the street.
With good weather, I suggest one more thing that your family for sure will enjoy: a boat tour to the cave of Polignano. You can use Escursioni Sofia company. Natural special effects with water, lights, reflections and colours are truly suggestive.
To go for a bathe, you can choose the already mentioned beaches of Lama Monachile or San Vito, avoiding crowded hours and months (10am-04pm, second half of July plus August). Alternatively, there are Cala San Giovanni or Cala Paura, equipped with Lidos. As the coast is mainly rocky/pebbly, shoes are recommended for accessing the water.
FESTIVALS IN POLIGNANO
There are numerous festivals and fairs that further enliven the town:
in June the patron Saint, San Vito, is celebrated with a procession on the water and fireworks;
in August there is "Il ballo di San Vito" festival, with live "pizzica" and "taranta" music and dance;
at the beginning of September, the typical street food "panzerotto" is protagonist of a fair in Triggianello district;
at the end of September, Polignano hosts the spectacular Red Bull Cliff Diving competition;
at Christmas, light projections, markets and performances are set up.
WHERE TO EAT IN POLIGNANO WITH FAMILY
BREAKFAST AND LUNCH
Before entering the old part of Polignano a Mare, bring your family to "Super Mago del Gelo": adults will taste famous "caffè speciale", that had been invented in this place, and children will love the ice-cream with panna.
"Pescaria" street food is very popular: eating a sandwich with grilled octopus in front of Polignano sea is priceless.
On San Vito bay, try "La Veranda di Giselda": the warmth of the welcome, the authenticity of the cuisine and the magnificent view make it my favourite place to eat with family in Polignano!
DINNER
If you go to "Terrazze Monachile", you will not forget it: here you can taste excellent fish in an elegant restaurant with an amazing panorama. 
Do you wish to live a luxury experience in a dream place? Book dinner at "Grotta palazzese": it is a restaurant inside the largest and probably most beautiful cave in Polignano, known throughout the world for centuries. If you book dinner at 6 pm, even children under the age of 10 will be able to enjoy this charm.
For a quiet meal in the historic centre, go to

"

Bella 'Mbriana

"

, to dine with an excellent pizza and much more.
TYPICAL FOOD
If you go to Polignano a Mare with family, you must taste two typical food: raw seafood and multicolour carrots.
The first one is very widespread in this part of Puglia: your children can alternatively enjoy real fresh fish, but cooked. About carrots, they are so special, with a savoury taste of brackish water and protected by a Slow Food Foundation for Biodiversity.
WHERE TO OVERNIGHT IN POLIGNANO
To stay in Polignano a mare with your family, I would suggest three different solutions:
Serafini B&B offers different types of rooms or flats, directly in the white houses of the historic centre of the village. Many accommodations have a nice terrace too.

Borgobianco Resort is a charming farmhouse "masseria" with a delightful swimming pool and spa. It is surrounded by olive trees and vineyards, but guarantees a sea view from its appealing terrace.

Pietrablu Resort is perfect for who is looking for an everything-inside hotel, with lots of comforts for parents and children. The services range from the swimming pools to the dedicated beach, from the sports fields to the mini/junior club and the free shuttle to Polignano a mare.
LAST ADVISES FOR POLIGNANO WITH FAMILY
Arriving in Polignano from the South, stop along the "Statale Adriatica" roadway to show a stretch of "Costa Ripagnola". It is a strip of countryside – overlooking the sea – where a few trees, bales of hay, dry-stone walls and small ancient trulli alternate: one of the most fascinating roads in Puglia!
In the square in front of the "Arco Marchesale" there are carousels, buskers and a small train that takes you on a tour of the city: be sure they will not go unnoticed by your children!
HERE YOU FIND A MAP WITH ALL THE MENTIONED POINTS.
Polignano a mare has been chosen as the Most Welcoming City on Earth by Booking.com clients in 2023.
IF YOU NEED MORE ADVISES, WRITE QUESTIONS IN COMMENT SECTION, THANKS
Please follow and like us: